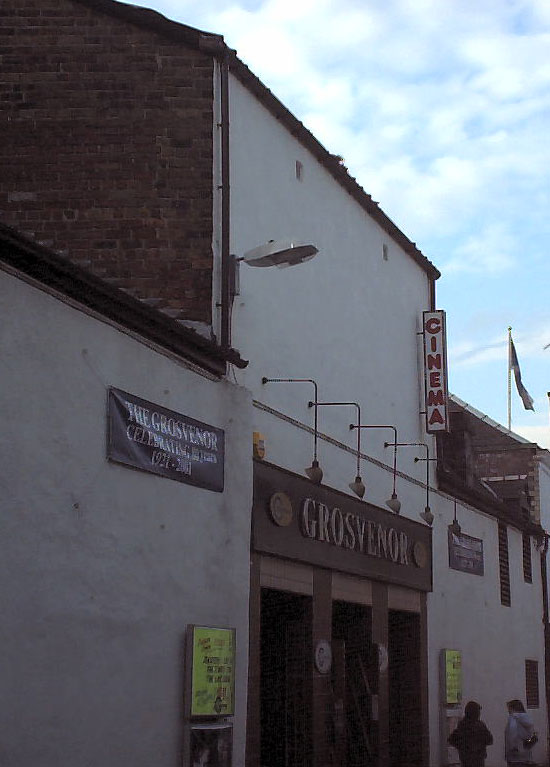 Taking central stage on Glasgow's Ashton Lane is the Grosvenor, a restaurant, bar and cinema that's perfect for enjoying the bustling atmosphere of the West End.
Its current incarnation plays homage to its previous days as a standalone cinema.
Glasgow cinema history
The Grosvenor building was originally a 1000+ seater cinema opened in 1921 with an entrance originally on Byres Road.
Supposed subsidence caused by an extension to Hillhead subway caused the entrance to be moved to Ashton Lane in the 1980s.
The cinema was sold in 2001 and became the entertainment venue it now is, retaining the Grosvenor name and two smaller luxury cinemas but the majority of the space now given over to a bar and restaurant area.
Ornate cornicing covering the original auditorium ceiling has been restored to provide a beautiful ceiling to the restaurant complemented with other movie interior references like the industrial  freestanding spot lights.
Big & small plates
Whether you just want to enjoy a drink and have a small bite to eat or fancy something heartier before a cinema visit, the menus at the Grosvenor are wide and varied.
If you're enjoying the foodball on the venues big screens, or just enjoying some cocktails with friends, the Grosvenor's small fish, meat and vegetarian plates like fennel, halloumi and pistashios, or scallops, streaky bacon and black pudding are a good choice.
To fill a bigger hole, the Grosvenor Cafe has a good selection of British mains like venison sausages, mash, shallot, thyme gravy, or pressed belly of pork, bubble and squeak with caramelised apples. It's alos worth noting the delicious sounding salted caramel chocolate tart with pistachio ice cream.
The Grosvenor Café has a number of offers on 5pm Dining including £13.30 for 2 courses on the st menu and a cocktail or £53 for 2 cinema tickets, 2 courses each and a bottle of wine per couple. View more offers and menus here.